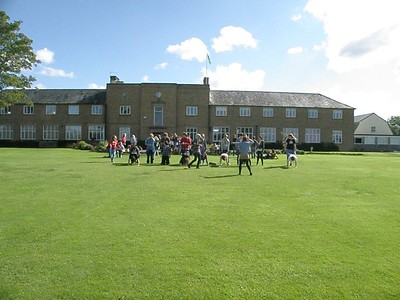 Key info
Dates    20th August to 27th August 2022
Venue  Sibford School, Banbury, Oxfordshire
Costs    £380
Ages    15 to 18 years old (must be 15 by 1 September 2022 and under 19)
Theme "Seeking to know one another: Different perspectives in 21st Century Quakerism"
Number places Approx. 85
About the event
Senior Conference is a spiritual gathering and a Quaker conference run by and for young people aged 15 to 18, a place of friendship, laughter, and reflection, which builds a strong and supportive community over the course of the week, and friendships which last for a lifetime.
Senior Conference is a LGBTQ+positive event.
During the week we explore the theme with speakers and in small group discussions and activities. Senior Conference also offers a variety of workshops, daily worship, an outing, social events and ample spare time for rest, chat and making new friends.
At the end of the week an "epistle" from everyone at Senior Conference is drafted. The epistle is an informal report that aims to capture the spirit of the week and to describe what happened. Previous year's epistles.
Senior Conference is organised and run by the arrangements committee, a group of ten young people appointed by last year's Conference. They are supported in the planning and organisation by a team of adult volunteers.
Our objective is to build a worshipful Quaker community, which provides a safe space in which young people can grow and learn more about themselves and the Quaker way of being.
We come together for a week of fun, community, worship, and shared explorations of issues and subjects connected to Quakerism. Each year we explore the theme through sessions with visiting speakers, discussion in Base Groups, worship and other activities. There are also a variety of creative and active workshops, swimming, a day trip to Oxford, and lively evening entertainments. It usually takes place at Sibford School in Oxfordshire.
FSSE is committed to providing a safe and fun place for young people to explore Quakerism and their spirituality. Two adult coordinators are responsible for the daily safe running of Senior Conference, although the Conference itself is planned by a committee of young people appointed at last year's Conference. They are assisted by a team of adult volunteers all aged 22 or older, who support the young people in the running of their event.
Around ten of the more experienced young people take the roles of Clerks, Elders, Overseers, Entertainments and Base group coordinator facilitators to organise and run the event. Each year, the newly nominated committee meets the previous year's committee, the two event coordinators and others in the 22+ support team for a handover meeting to agree the theme. Two subsequent planning meetings are held to plan the event.
Friends Southern Summer Events follows guidelines from Britain Yearly Meeting concerning the safety and well-being of those taking part. All adult volunteers are required to have current, enhanced disclosures from the Disclosure and Barring Service (formerly Criminal Records Bureau). Read more about how we aim to keep young people safe. Our child protection policy can be downloaded from our policies page. An information pack and application form is available, you can download them from our Apply page.
If you're interested in getting involved with FSSE please see our get involved page.
Documents that may be of interest to parents or guardians:
Bursary information
We know that many young people will require help if they are to be able to attend Senior Conference or Junior Gathering. Your local Meeting or Area Meeting may have funds available. We would be glad to offer further advice if required.
It is FSSE policy that no one should be prevented from attending for financial reasons, and we do have a small bursary fund. If you need any help even for a few pounds please contact us.